Carrot Zucchini and Corn Fritters topped with Smoked Trout and Horseradish Cream
Looking for something healthy to serve at Christmas?
How about these? They're both healthy and deeeelicious!
These fritters were a huge hit when we were entertaining recently
Which is great as they are so easy to make
And you can serve them either as finger food or as an entree just by varying the size you make the fritters
Plus you can top them however you like…
But this is our current favourite topping – hot smoked trout and horseradish cream…
You are sure to impress your friends and/or family if you include these as part of your Christmas spread…
Carrot Zucchini and Corn Fritters topped with Smoked Trout and Horseradish cream
Author:
Caroline Trickey from Healthy Home Cafe
Ingredients
1 corn cob
2 small carrots (150 grams)
2 small zucchinis (150 grams)
2 tablespoons chopped fresh coriander leaves
2 small eggs
¼ teaspoon salt
3-4 tablespoons brown rice flour (or just use self raising flour)
Extra virgin olive oil
Topping:
½ cup Greek yoghurt
1-2 teaspoons horseradish
1 whole hot smoked trout, skin and bones removed
fresh dill, to garnish, optional
Instructions
Start by cooking the corn. I like to do this in the microwave with the husk on for 3 minutes. Set aside to cool.
Grate carrot and zucchini and place in a large bowl.
When the corn is cool enough to handle, carefully slice the kernels off the cob and add to the bowl. You should have a little over ½ a cup of kernels.
Add coriander, eggs and salt and using a fork, whisk together to break up the egg.
Then stir in the flour and mix well.
Heat a fry pan over medium heat. When hot, add a drizzle of oil and spoonfuls of the fritter mix.
Cook for 3-4 minutes, or until golden brown. Turn over and repeat on the other side.
Remove and place on a plate lined with kitchen paper towel.
Meanwhile, mix together yoghurt and horseradish. Set aside.
When ready to serve, top with horseradish yoghurt, smoked trout and garnish with dill.
Enjoy 🙂
For a vegetarian option – top with tzatziki, tomato relish, guacamole or avocado and tomato salsa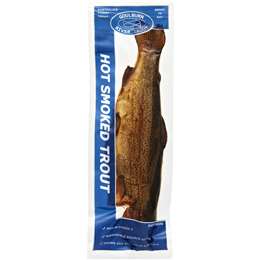 Hot Smoked Trout – Is a fantastic source of omega-3 fats and farmed sustainably!
BTW I got mine from Woolworths. Brand is Goulburn River Trout
Smoked trout is hot-smoked (cooked) and ready-to-eat. It is delicious hot or cold.
This is how I remove the fillets from a whole trout: First remove the skin…
Using a bread and butter knife, cut along the centre lengthways until you hit the bones…
Lifting from the centre downwards, gently prise away the bottom half of the top fillet and place on a separate plate…
Then lifting upwards, remove the top half
Lift the head up and away from the body to take the spine (along with all the bones) away from the remaining fillet. It should come up in one piece. You can use tweezers to remove any finer remaining bones.
Corn
Too many people have been told not to eat corn. Why?
From what I can tell, it's because someone somewhere read on the internet about how corn (usually GM corn) is used extensively in processed foods in America which aren't healthy. But we are mixing messages here. That info is about processed foods, not whole, fresh corn!!
Besides Australian-grown corn is NOT GM and fresh corn straight off the plant is INCREDIBLY healthy. And yummy!
So ignore the 'chinese-whispers' and eat this incredibly healthy, low GI, antioxidant-packed delicious whole food!!